AT LEAST I STILL HAVE MY VEGEMITE
Thank the FSM that stuff never goes off. I've been eating a lot of it lately and I think the jar is the one I brought over when we moved here, which I'm glad you asked, is exactly 2 years ago. Jan 17th 2007 we landed in snowy but sunny Flagstaff from sandy and sunny Sydney.
2 years!! How ape crazy bonkers is that?!
And you know what? I'm not ready to move back yet. We are really enjoying it here and I would have never learnt to snowboard at home.
We always said we probably would move back to Oz at some point. Us and long term planning is like having a distant slightly repellent relative who you feel like you should make a vague concession to their existence at Christmas and mall shootings.
One thing is we will stay until I can get my duel citizenship, which I think is after 3 years, so I can start that process in a year or so.
I don't miss Sydney that much, but I do miss the people a lot.
My niece and nephew growing up as well as all my friends kids. Having people around for a BBQ and games, the crazy native birds, gum trees, meat pies and home delivered Thai.
We were vaguely planning on coming back for a visit around April but since we only have my income at the moment we probably should be good and not spend too much.
Big sad face.
In other news, we had the busiest day at work on Friday. The mobile was out at Seligmon about 1 1/2hr from Flagstaff. It is a rural community and on Route 66 so the main street is geared for tourists in a slightly run down dusty way.
Anyway I left home at 5:45am and didn't get home till nearly 9pm. Lots of surgeries and in the afternoon vaccine clinic. We had people lined up and waiting for ages and ages. Most people were patient and everyone knows everyone so it was like a town reunion. One thing is that most of the folks don't have just one well behaved pooch and moggie, they have 8 Dire Wolves and 3 Sabre Toothed Tigers. In the end as darkness fell we were vaccinating in the back of utes and through car windows, just to get through the backlog.
One couple brought two Cane Corso pups to be desexed. We were worried that we wouldn't have space, since they are a type of Mastiff. Lucky they were only 5 months old and 'only' 55 pounds.
They were so cute, big floppy ears and sad eyes. I was looking at them online and sadly it seemed to be a habit to cut their ears off into ugly, scarred points and dock thier tails. Blahhgg.
I can see the reason behind such things when they were used to hunt and the such, less bits to get
ripped and injured. Nowadays not many people are out hunting Aurochs so its just a macho wank.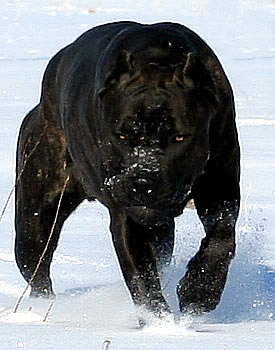 I found this awesome photo of one. If that doesn't send shivers down through the caveman part of your brain, then you aren't caveman enough.
Another amazing photo to send a shiver or two.
Waiting for rescue after landing in the Hudson River, NYC.